Φ8.0 Series External Fixation Fixator – Pelvic frame
Product Detail
Product Tags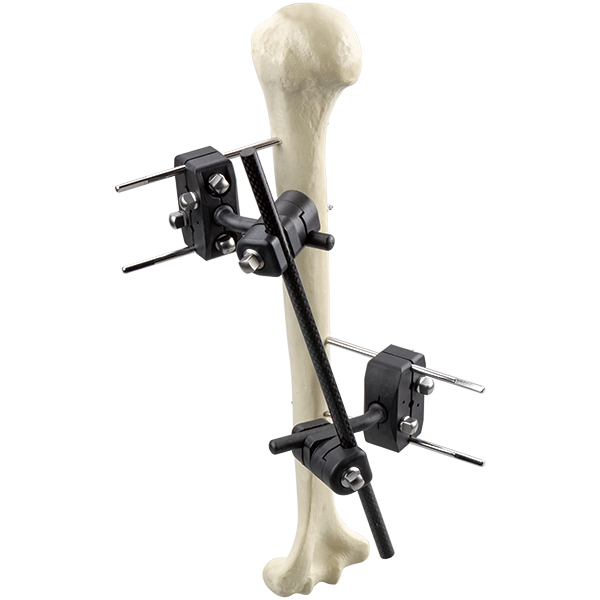 (This frame is for reference only, the actual surgery depends on the fracture).
Frame detail:
Place the 5mm bone screw at a 45 ° angle and place it behind the humeral wing or the acetabulum (the bone screw points to the large trochanter) for better bone fixation. Care must be taken when placing the bone screw to penetrate inside and outside of the pelvis. The layout of the needle should be confirmed by radiography.
Install the coupling X, insert the 30° post into the coupling X, connect the frame clamp VII with two Ф8 L280mm connecting rods (straight type) and two Ф8 L250mm connecting rods (straight type) as a frame, and final lock. (In the operation, the coupling X should be used as a guide for the parallel layout of the bone screw) .
Features:  
1. Easy to operate, flexible combination, can build a three- dimensional stable external fixation system.
2. According to the adaptation symptoms, the stent can be freely assembled during the operation, and the components can be added to the frame at any time.
3. PEEK fix clamp help reduce the overall frame weight.
4. PEEK fix clamp has low developing degree, easy operation.
5.Carbon fiber connecting rod build elastic frame, to reduce stress concentration.
Recommended configurations:
| | | | | |
| --- | --- | --- | --- | --- |
| Product Image | Order Code. | Product Name | Specification (mm) | Qty |
|   | 20.10.0108250.300 | Connecting rod (straight) | Ф8, 250mm | 2 |
|   | 20.10.0108280.300 | Connecting rod (straight) | Ф8, 280mm | 2 |
|    | 20.20.0708201.400 | Rod to rod coupling VII | 2 holes Ф8 | 6 |
| | 20.20.1008501.400 | Coupling X | 5 holes Ф5 | 2 |
|   | 20.30.0308101.400 | 30° Post | Ф8 | 2 |
|   | 19.32.513.0501501 | Bone screw | Ф5.0×150mm | 4 |
---
---