Φ8.0 Series External Fixation Fixator – Femoral unilateral reinforcement frame
Product Detail
Product Tags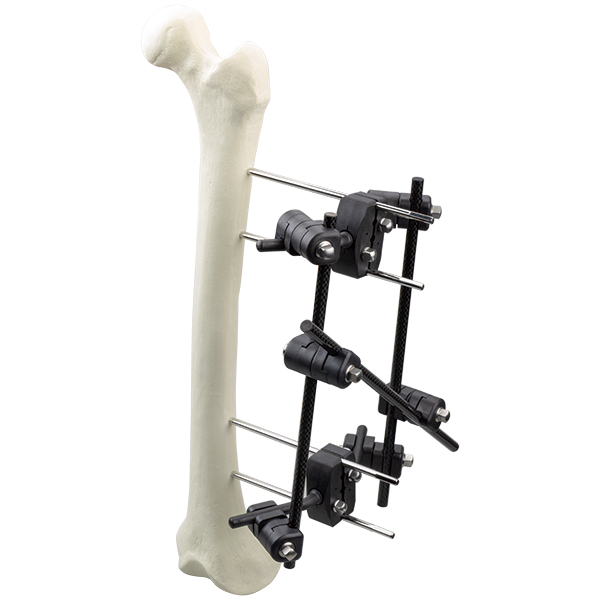 (This frame is for reference only, the actual surgery depends on the fracture).
Frame detail:
It is recommended that the framework can be used in clinical for temporary fixation with multiple trauma or grade III open fractures when internal fixation is not available. Place two parallel 5mm bone pins on the side of the femur, and the coupling X was mounted, then insert four 30-degree struts into the two couplings X in a "V" shape. Connect the coupling X with four rod to rod couplings VII and two Ф8 L250mm connecting rods (straight type), and connect the frame with all the components by two pin to rod couplings VII and one Ф8 L280mm connecting rod (straight type). Then finally lock. (In the operation, the needle block X should be used as a guide for the parallel layout of the bone screw) .
Features:  
1. Easy to operate, flexible combination, can build a three- dimensional stable external fixation system.
2. According to the adaptation symptoms, the stent can be freely assembled during the operation, and the components can be added to the frame at any time.
3. PEEK fix clamp help reduce the overall frame weight.
4. PEEK fix clamp has low developing degree, easy operation.
5. Carbon fiber connecting rod build elastic frame, to reduce stress concentration.
Recommended configurations:
| | | | | |
| --- | --- | --- | --- | --- |
| Product Image | Order Code. | Product Name | Specification (mm) | Qty |
|   | 20.10.0108250.300 | Connecting rod (straight) | Ф8, 250mm | 2 |
|   | 20.10.0108280.300 | Connecting rod (straight) | Ф8, 280mm | 1 |
|   | 20.20.0708201.400 | Rod to rod coupling VII | 2 holes Ф8 | 6 |
|   | 20.20.1008501.400 | Coupling X | 5 holes Ф5 | 2 |
|   | 20.30.0308101.400 | 30° Post | Ф8 | 4 |
|   | 19.32.513.0501501 | Bone screw | Ф5.0×150mm | 4 |
---
---