Φ11.0 Series External Fixation Fixator – Humerus backbone frame
Product Detail
Product Tags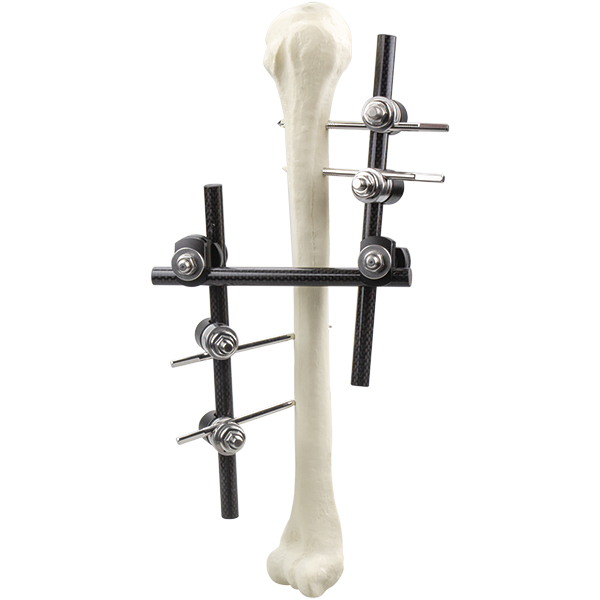 (This frame is for reference only, the actual surgery depends on the fracture).
Frame detail:
Put two 4mm bone screws on posterior distal radius, and put two 5mm bone screws on proximal humerus. Use four pin to rod couplings XV and two Ф11 L200mm connecting rod (straight type) to connect the bone pins, and then use two rod to rod couplings XVII and one Ф11 L150mm connecting rod (straight type) to connect all the components into a frame and finally lock .
Features:  
1. Easy to operate, flexible combination, can build a three- dimensional stable external fixation system.
2. According to the adaptation symptoms, the stent can be freely assembled during the operation, and the components can be added to the frame at any time.
3. Aluminum fix clamp help reduce the overall frame weight.
4. Carbon fiber connecting rod build elastic frame, to reduce stress concentration.
Recommended configurations:
| | | | | |
| --- | --- | --- | --- | --- |
| Product Image | Order Code. | Product Name | Specification (mm) | Qty |
|   | 20.10.0111150.300 | Connecting rod (straight) | Ф11, 150mm | 1 |
|   | 20.10.0111200.300 | Connecting rod (straight) | Ф11, 200mm | 2 |
|   | 20.20.1511201.200 | Pin to rod coupling XV | 2holes Ф11/Ф6 | 4 |
|   | 20.20.1711201.200 | Rod to rod coupling XVII | 2 holes Ф11 | 2 |
|   | 19.32.515.4251001 | Bone screw | Ф4.0×100mm | 2 |
|   | 19.32.513.0501001 | Bone screw | Ф5.0×100mm | 2 |
---
---